Jun. 14, 2023
Introducing Ryan Fairley, an IBer who is equal parts mysterious and fun, hard-working and easy-going.
Born and raised in Toronto, Ryan is a graduate of the Classical Animation Program at Sheridan College. Most recently, Ryan directed a series of "Paw Patrol" and "Abby Hatcher" shorts for Nickelodeon; he was Animation Director on "Paw Patrol", as well as "True and the Rainbow Kingdom" and has animated on many cartoons including "The Backyardigans", "Guess with Jess", and "Celebrity Deathmatch". When not Directing, Ryan can be found making lots of noise on his electric guitar, or cooking up something creative. 
Check out some snaps of him and his artwork above, and get to know him a bit below!
What is your current title? What production(s)/project are you working on now? How are you enjoying it?
I am Series Director on a brand new Top Secret project. I am very excited about it, and it's looking amazing. We have THE BEST team ever. This has been some of the most creatively fulfilling work of my career to date, and I can't wait to finally be able to talk about it once it's been announced!
What inspired you to work in animation?
It all started with The Muppets/Sesame Street for me, and I became obsessed with puppeteering as a kid. Around the same time my Grandfather taught me how to draw and paint, and I started making illustrated books about dinosaurs, monsters, Star Trek, Dick Tracy etc.
By the time high school rolled around, I'd amassed many artistic interests. I knew I wanted to have some sort of career in the arts, but I couldn't decide on any one path. One day my Aunt was over having tea and she said to me, "Your cousin's friend is taking Animation at Sheridan College. You should do that.". It was a total 'lightbulb' moment for me because it was such an obvious use of all my different skill sets. It didn't even occur to me that Animation was an actual career option!
What is your favourite thing about what you do?
World building – I love setting up the look, tone, and feel of a world. 
The Characters – I love getting to know my characters, and honing in on what makes each of them so special.
Do you have a tip or piece of advice for aspiring directors?
Be prepared – Have a plan and provide clear references. If the universe throws a wrench in those plans, be prepared to adapt and find other ways to tell the story you want to tell. 
Have a point of view – take all the experiences of your life that have meaning to YOU and put them in your work. The more specific you are, the more universally appealing your work will be because it comes from a place of truth.
Be kind and have fun – At the end of the day we are making cartoons, so be kind to those you work with and have fun.
Are there any creative disciplines that you do in your spare time? Tell us about it a bit.
When I am not Directing, I can be found at my other job writing music and performing in a Top Secret music project. IYKYK.
While I can't share my current project yet, I can share some music from my previous band 'Radius and Helena'. Here's our music video for a song called 'What Gets in the way of Love': Radius & Helena – What Gets In The Way Of Love
What is a 'fun fact' about you? 
This year for Easter, my partner and I recreated Frank and Bill's final meal on 'The Last of Us' Ep 3 .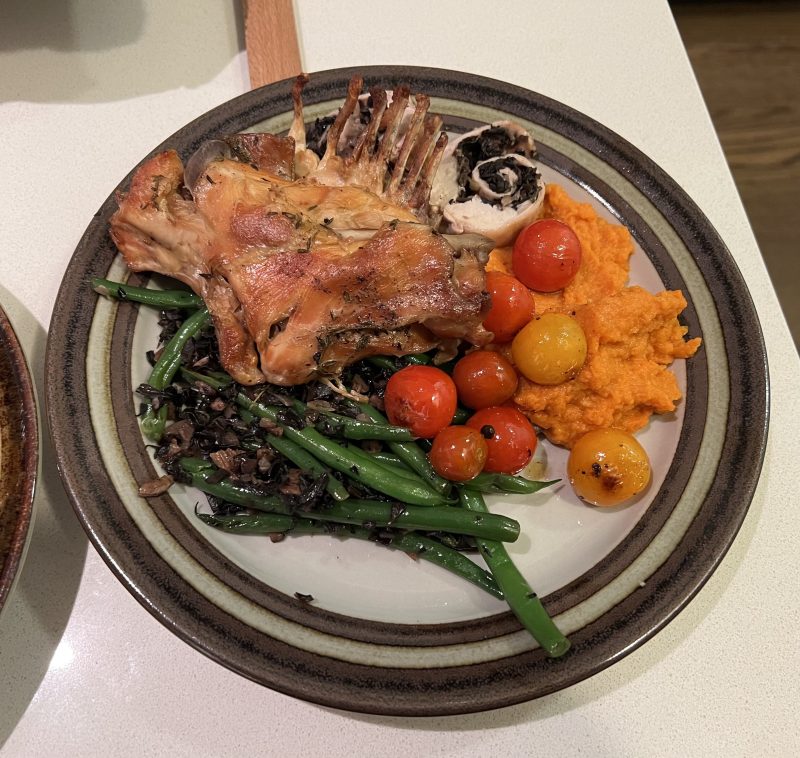 Post Apocalyptic Rabbit: Rabbit three ways. Carrot puree. Green beans and blistered tomatoes. Paired with a nice Beaujolais and Linda Ronstadt. Strawberries for dessert of course. No pills. 
If you want to attempt this yourself, we found the recipe here:   
https://www.bingingwithbabish.com/recipes/rabbit-last-of-us?format=amp
Thank you for your attitude, creativity, kindness and awesomeness, Ryan!
We're so proud to have Ryan on team Industrial Brothers, and we can't wait to share more about the Top Secret Project he's working on as soon as we can.
Stay tuned…